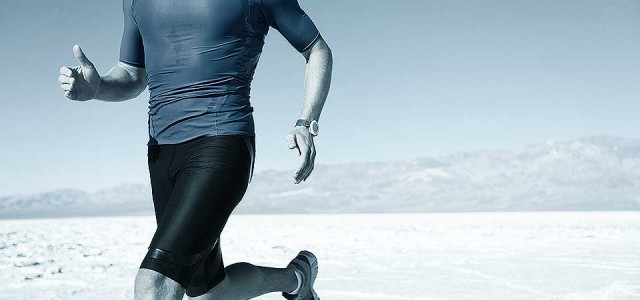 Owning a running watch is the next best thing to having a personal coach. Runners' watches that are GPS enabled go the extra mile by giving you the ability to track a number of vital statistics, including distance ran and pace. For outdoor runs, a GPS enabled watch is an essential piece of equipment to get you to meet any number of goals.
Depending on your budget and needs, there are hundreds of GPS watches on the market. For budget conscious runners, basic GPS watches will provide the basics and calculate how far and how fast you ran during a workout. More expensive options will provide additional information, such as calories burned, heart rate, and estimated recovery times. If you're looking to buy a new watch to help you meet your exercise goals, here is a list of 7 great GPS watches for running.
Garmin Forerunner 10 ($130)
The Garmin Forerunner 10 is an excellent entry level GPS running watch for people who aren't looking for fancy add-ons. The Forerunner 10 provides runners with all the basics of a good running watch at a budget price. Using Garmin's famous GPS technology, the Forerunner10 provides users with accurate readings on their distance and pace. It can also keep track of personal records and has the ability to compare your current pace to your target pace. For those looking to lose weight while running, the watch also has a calories burned counter.
The Garmin Forerunner 10 is one of the more popular models because if its versatility. It is one of the lightest and smallest GPS watches on the market and is available in a half dozen different colors. Because of its light weight and variety of color options, the Forerunner10 is a great watch to wear for daily activities.
Nike+ Sportwatch GPS ($140)
The Nike+ Sportwatch GPS is another excellent entry level GPS watch that offers many great features, especially when connected to the Nike+ footpod. The watch uses TomTom technology for accurate GPS tracking to record pace and distance travelled. In addition, the watch also keeps track of laps ran when doing intervals and calories burned.
The Nike Sportwatch GPS also connects to Nike+ footpods to help runners keep track of their performance when running in areas with a weak GPS signal, such as when running inside.  When connected to the footpod, the Nike Sportwatch can accurately calculate distance travelled and running pace.
The watch has a built in USB port for easy connection to your computer. After uploading your run's data, your Nike+ online account can help you to track progress, set goals, and connect with other runners.
Tomtom Runner GPS ($170)
The Tomtom Runner GPS is the brand's first athletic GPS unit and has a lot of features for its price. The Tomtom runner can be used outdoors or on a treadmill. All vital statistics including pace, distance, and calories burned are displayed on the watch face throughout your run, allowing for easy performance viewing.
There are also three training options: race, goal, and zone. The race setting uses your personal best time and allows you to race to try and create a new personal record. The goal setting provides a vibrating alert to let you know you've reached your goal of a particular distance or number of calories burned. Finally, the zone setting is used with a separate heart rate monitor to determine how hard you've been running.
Timex Ironman Run Trainer 2.0 ($225)
The Timex Ironman Run Trainer 2.0 is a great GPS watch for all types of runners. The menu is easy to navigate and the simple design makes it ideal for beginner runners. In addition to keeping track of the basics like distance and pace, the watch has many other great features for runners looking for something a little extra. One great extra feature on the watch is a sensor on the watch that notices when the user's pace changes drastically, such as at an intersection waiting for a light to change. The watch will stop with the user and start again once the user starts running again, making data tracking much more accurate.
For runners trying to improve their times by running intervals, the Run Trainer 2.0 has the ability to program interval workouts with up to six different segments. At the end of each segment the watch will provide a notification letting you know that interval is complete.
The watch can also be programmed to provide a variety of alerts. It can alert you if you are running too slow or fast or when connected to the heart rate setting, it can notify you if you are running too hard or not hard enough.
Polar RC3 GPS Sports Watch (starting from $279.95)
The Polar RC3 GPS Sports Watch is a great GPS watch for providing instant feedback on your performance and helping runners achieve their fitness goals. Like all other GPS watches, the Polar RC3 accurately calculates speed, distance, and pace. Post run, the watch provides instant feedback and rates your performance on a running index.
If you feel like you are in a running rut, the watch has a five-minute fitness test to help you gauge which areas need the most work. From here, it is possible to download a number of personal training programs to help you improve your fitness levels.
The Polar RC3 is also noteworthy for its battery life and can stay functioning for 12 hours with the GPS continually running.
Garmin Forerunner 620 ($399.99)
For advanced runners, the Garmin Forerunner 620 is a great GPS running watch and the next best thing to having a personal coach. The Forerunner 620 has numerous features to get serious runners to improve their training and move up to the next level. The watch is also extremely user friendly with high-resolution colored touch screen face, making all the great features easily accessible with a click of your finger.
The Garmin Forerunner 620 is the first GPS watch that provides extensive data on running form. Like other top line running watches, the Garmin Forerunner 620 can provide information on users' cadence. In addition, the watch can also provide runners with information on their vertical oscillation, or the bounce created when running, and ground contact time. A gauge on the watch shows users how their running movements compare to other runners.
Another great feature of the Forerunner 620 is that it can estimate your body's maximum oxygen consumption (VO2 max), which can be used to measure fitness and improve running performance. If training for a longer race, the watch can use the VO2 information to predict race times for different distances.
Adidas MiCoach Smart Run ($400)
The Adidas Smart Run is a high quality watch that has nearly every feature that a runner would want in addition to many extra features that are usually more likely to be found on a smart phone. If you have seen or heard about the smart watches entering the market from electronic manufacturers like Google, Sony, and Samsung, the Adidas Smart Run uses the same operating system but is designed specifically for athletes.
The GPS system calculates speed, distance, and even elevation changes during your run. It also has a built in heart rate monitor allowing runners to get instant feedback on their performance and training goals. The Adidas Smart Run also has a built in accelerometer to help runners measure their stride rate and improve their cadence. Additionally, there are many programmable features including interval workouts and audio, visual, or vibration feedback for coaching.
What sets this watch apart from other running watches is its video features and music capabilities. Adidas Smart Run can store 3 GB worth of music and can stream music and coaching tips to Bluetooth-enabled headphones. It also features strength-training animations that you can view on the watch screen to help you as you work out.