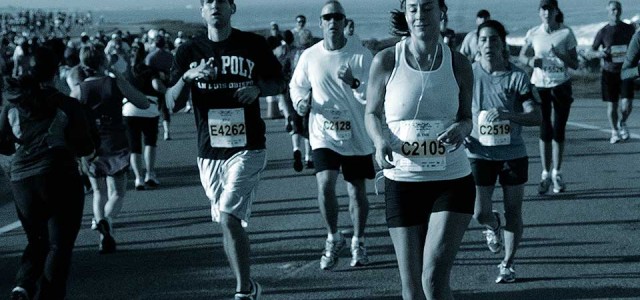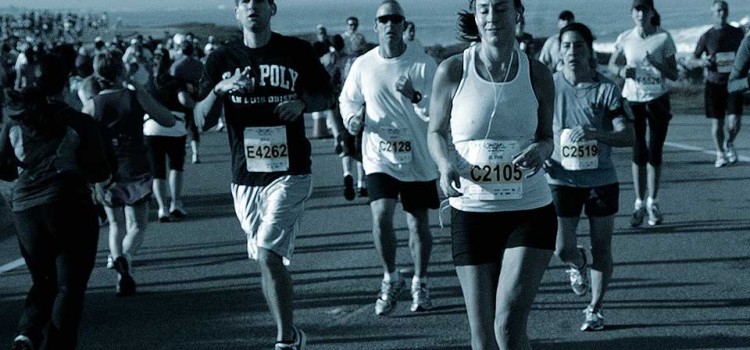 The Big Sur Half Marathon is an extremely popular race and the 9,000 entry spots sell out every year. The scenic race course of the Big Sur Half makes it one of the top destination half marathons and draws racers from all around the country as well as international runners. Many elite runners also race at Big Sur because of the fast course and the large prize purse.
2014 Big Sur Half Marathon Details
The Big Sur Half Marathon takes place around the Monterey Bay area, with much of the course set along the ocean. The 2014 race starts at 6:55 am PST on Sunday, November 16, 2014. Along with the half marathon, there will also be the Pacific Grove Lighthouse 5k that same morning, showcasing downtown Monterey and the scenic coastline of Pacific Grove. There will also be a 3k Kids Race with fun activities for children before and after the race. Last year, the half marathon sold out only 27 hours after registration opened, so make sure to register early.
Big Sur Half Marathon Course
The Big Sur Half Marathon starts on Del Monte near Figueroa Street in downtown Monterey. The course takes runners through the downtown area and to Cannery Row along the ocean. From here, runners run the length of Cannery Row and then go into downtown Pacific Grove.  The course then goes back towards the ocean at Ocean View Blvd and Lover's Point. The next six miles are run next to the Monterey Bay. At Asilomar Beach, the runners turn around and head back down the ocean in nearly the same way they came. The course ends at the Custom House Plaza in downtown Monterey.
Runners rave about the Big Sur Half because of the spectacular ocean views along the majority of the race course. The waves are fairly large in many areas along the course and it is possible to see the waves break when running alongside the ocean. In addition to the ocean scenery, runners will also pass a golf course and architecturally interesting oceanfront homes.
The course has only two major hills in town and some small rolling hills along the ocean.
Race Organization
The Big Sur Half Marathon is a well-organized race and has good reviews from participants. Water stations that also offer Gatorade are placed at approximately every two miles along the course. As part of an environmentally friendly initiative, race organizers suggest taking part in the "bring your own bottle" program. If you have your own water bottle, it will be possible to refill it at the Asilomar aid station. There are also first aid and medical stations at all water stations and at the finish.
Prior to the race there is a Health & Fitness Expo where bibs, timing tags, event shirts, and the 2014 Race Program should be picked up. This event will be held on Friday, November 14from 12:00 pm to 6:00 pm and on Saturday, November 15 from 9:00 am to 6:00 pm at the Monterey Conference Center. There will be over 40 vendors and business at the Expo offering running and fitness gear as well as showing health and fitness demonstrations.
During registration, entrants will need to estimate their finish time and will be accordingly seeded into corrals. The race will start in 12 waves with the fastest runners placed in front. All participants should be able to complete the course in 3.5 hours.
There is nearly $20,000 worth of cash prizes to top finishers, making it one of the biggest half marathon cash purses in the United States. Awards are provided to the top eight female and male finishers and to the top three Masters female and male finishers. There is also an additional $1,000 bonus for a new course record. The current course records for men is 1:02:32 and for women 1:09:43.
With these large cash prizes, many elite runners choose to race the Big Sur Half. Elite and seeded runners should register separately by emailing Greg Mislick at gkmislic@nps.edu or Steve Butler at ssssbutler@hotmail.com. Elite Standard qualifying times for men is 1:10 and 1:22 for women. Seeded Standard qualifying times for men is 1:12 and 1:25 for women. For the Masters division, Seeded Standard times are 1:20 for men and 1:30 for women. Elite Standard athletes will be considered for free accommodation and an elite dinner invitation. Seeded Standard athletes will be considered for complimentary entry.
Finish Line
The finish of the Big Sur Half Marathon is well-organized and well-reviewed. All finishers receive a hand-made ceramic and leather medal with an iconic Monterey picture. In addition to the regular post-race snacks like fruit and Gatorade, all racers are entitled to one cup of soup and one free beer.
Race Weather
Weather conditions in Monterey are mild in November. The average temperature for the race is between 50 degrees and 60 degrees Fahrenheit and the average humidity is 30 to 50 percent.
Post-Race Guide to Monterey
Monterey, Big Sur, and Carmel are excellent destinations for runners from out of town. Many hotels near the starting and finishing lines for the Big Sur Half Marathon have blocked rooms for participants. In addition to beautiful ocean views along the race course, there are many things to do and see after the race. Plan to spend the weekend in the region exploring the many activities and spectacular settings this area has to offer.
Bird watchers should head to Carmel River Lagoon and Wetlands Natural Preserve to see beautiful great blue herons. Divers would be interested to see the kelp forests at Monastery Beach. There are also numerous hikes along the coastline with amazing views of the famous Monterey cypress and pine trees and the ocean. In addition to great scenery and outdoor activities, Monterey and Carmel also are home to many first-class restaurants and good shopping.
Registration
Registration for the 2014 Big Sur Half Marathon will open April 1 at 7 am PST. Early bird registration specials are $95 for adults and $85 for those under 18 and runs from April 1 through April 15. Registration between April 15 and July 31 is $115 for adults and between August 1 and September 30 it is $125. From October 1 until race day, registration is $130 for adults. There is a $10 discount for active duty military.
The Big Sur Half Marathon always sells out and last year all 9,000 spots were taken within 27 hours of registration having opened. If you plan to run the Big Sur Half, sign up immediately.
All entry fees are non-refundable and non-transferable. The Big International Marathon is a 501(c)3 and proceeds from the events goes to local charities and grant groups. For the Half Marathon, proceeds are dedicated to the youth fitness program, Just Run.