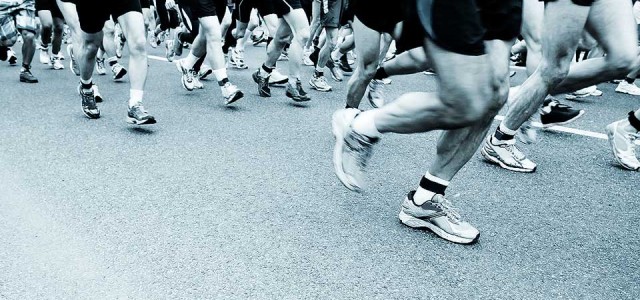 A half marathon tests your mental strength as much as it does your physical strength and each part of the marathon requires a specific mental approach. If you've raced a 5K or 10K before and you believe you're ready to attempt a half marathon, you could use a few tips to get you prepared so your training doesn't overwhelm you and consume your life.
1. Build a solid base
One common mistake new beginners make when preparing for a half marathon is to assume that you can initiate a 12-week training program that takes you from the couch to the finish line. Training plans that range from 10-14 weeks are designed for individuals who've already established a weekly mileage base of about 10-20 miles so when starting, ensure you have a minimum of 5 miles on your weekly mileage.
If you run less than five miles each week your body would have a hard time adjusting to the sudden exertion. Start slowly and then gradually build pace and distance; this will give your body time to build strength. Make sure you have enough weekly mileage when you start training for your half marathon so your body has time to acclimate.
2. Pick the right plan
Most people choose the 12-week training plan but anything ranging from 10-16 weeks could work; but remember an extra week on your training ensures that you cover any wiggle room, such as when a runner gets sick or has a slight setback. When running your first half marathon it's advisable to choose a plan longer than 10 weeks.
Each plan involves different elements (workouts, mileage and frequency of runs) so study each plan before settling on one. If a plan requires you to run every day but your responsibilities don't allow it, then you know that's not the right plan for you. Find a plan that blends well with your daily routine and fits comfortably with your lifestyle.
Training plans are available for Beginners, Intermediates and Advanced or Experienced runners but even the most experienced runners study each training plan carefully before attempting it; in order to ensure it fits their current fitness level.
3. Avoid common mistakes
When starting the runs, beginners tend to make common mistakes such as wearing the wrong shoes or not running in proper form, but it's no major concern; just about every advanced runner has at one point made a few mistakes. Keep these tips in mind when starting out so that your training can yield the best results:
Running shoes. If you wear the wrong shoes you could suffer discomfort, lower you performance and, in the worst case, injure yourself. This is why most runners get fitted at a running specialty store where they can get the right running shoe for their foot type. Keep in mind running shoes should be replaced every 300-400 miles, so purchase a new pair before yours gets worn-out.
Proper running form. Long-distance running requires tremendous energy and rhythm- all of which can be difficult to maintain if you're not running in proper form. Don't slouch. Keep upright, with your head up and level and your arms relaxed at a 90 degree angle. Take short quick steps and try to keep your feet low to the ground. You will conserve your energy and minimize the impact on your legs and joints, allowing you to run longer.
Stay motivated. This is one of the main challenges for new runners and it can impact your training profoundly. Proper training requires mental discipline and motivation because there will be days when you don't feel like running at all, and if you skip your training it will impact your overall performance. Find ways to keep yourself motivated each day- such as buying new running gear or running in shorter races.
Prepare for the long runs. The weekly long run is an important part of your training because it helps prepare you mentally and physically for your half marathon. Before you start on the long run you have to ensure you eat well, hydrate and get plenty of sleep. You should be in proper shape if you consume 65% carb calories for the two days leading up to the long run.
Don't run alone. Training is a lot more fun when you do it with friends or family members. You're able to stay on track when you have other people watching you, and you'll be motivated top stick to the training.
4. Fueling your body
You'll need calories in the days leading up to your long run but you don't necessarily have to boost your calorie intake; just ensure the majority of your calories come from carbs. All runners consume and use energy differently but the basic body mechanism will work the same way.
Make sure to take in adequate fuel the day before your long run and eat easy-to-digest, carb-rich, low-fiber breakfast to ensure your body and mind perform well.
Fuel you body at regular intervals so you never ran out of gas. If you wait until your muscle glycogen stores are depleted you'll have a hard time bouncing back so remember to refuel every few miles.
You may try a variety of products to keep your muscles working at their best and if you're using a concentrated form of fuel remember to dilute it with water so your body can absorb it. If you take it concentrated it won't get properly absorbed and it could make you nauseous.
5. Remember to cross-train
Logging miles is obviously the main part of your training but doing too much of that can leave you burned out and actually lead to injury. One way to prevent this is by cross-training. Cross-training is any activity that supplements your training, and it can focus on strength training, which boosts your core and lower body, allowing you to run longer. Other activities include swimming, cycling, yoga, elliptical trainer, water running, and so on.
Training can be challenging but if you keep your mind away from your body, and focus on your environment – scenery, other runners, people cheering, etc, it'll get you moving. The hardest element to control is usually your mental attitude but once you learn to control that, you will have a successful half-marathon.